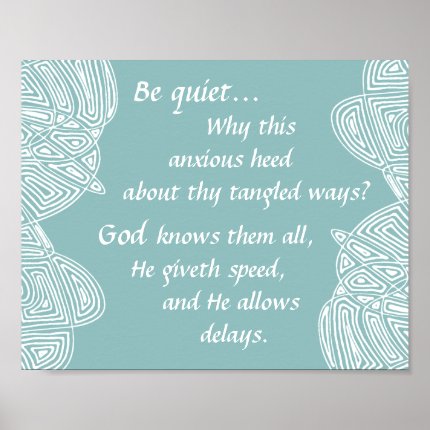 Tangled Ways Poster
These words were a gift from my mom, clipped from somewhere and slipped into the notebook with all her important papers (the one she told me to get "if anything ever happened to me.") She passed away recently, and while making plans for all the little details that have to be done in times like these, these words have helped me through.
I did a little research on this quote...I found it in two different books, both published in the 1800's. In one of these,
Daily Strength for Daily Need
by Mary Wilder Tileston, listed the author as simply E.W. The other source,
A Dictionary of Poetical Illustrations
, showed that this was just one stanza from a larger poem. I still think this verse is most powerful alone, but the poem it was in was beautiful, too, so I wanted to share it with you.
Be still, my soul, let nothing stir
Thee from the sweet repose
Of those who to their God refer
Their joys, their cares, their woes.
Be quiet, why this anxious heed
About thy tangled ways?
God knows them all, He giveth speed,
And He allows delays.
What though He let thee not perform
Some good and loved design?
Thou would'st not wish Him to conform
His perfect will to thine!
My God! the hearing ear impart,
To hear Thee tell Thy will,
And then bestow the ready heart
All meekly to fulfill.
To my knowledge both the quote and the poem
are in the public domain
.
-----
I'm sharing this on
Quote Me Thursday