What do you think of my new card? It uses the same design that's been on my twitter button for a while, but until recently I hadn't put it on any products.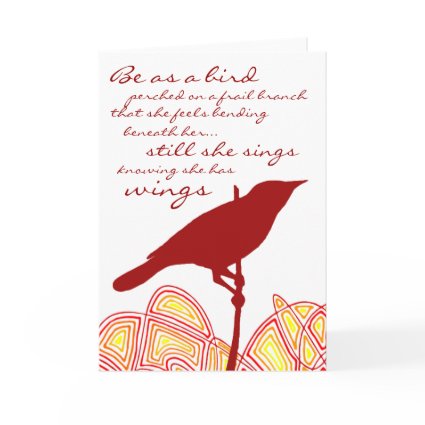 Still She Sings
by
scribbleprints
See more products with this design.
This card was made using my own scribbbleprints and and a silhouette I made using an image of an Oriole from
Graphics Fairy
(I made some free twitter graphics with it too which
you can find here
). This weekend I found a beautiful quote by Victor Hugo that seemed perfect for it. Thought it turned out rather nice!
Right now 100% of the profits from this card are going to help Hurricane Sandy Victims. That's not just my artist...Zazzle's is donating all of their profits too through a special program partnering with Zazzle artists who choose to donate their work.
Use coupon code

ALLCARDSSALE

for 50% Off Cards and Invitations
(Ends Nov 27).
If there's any other quotes you'ld like to see with this design, leave a comment with the quote and I'll see what I can do about it!